Print This Page
Wave Over Wave (with wife's monologue)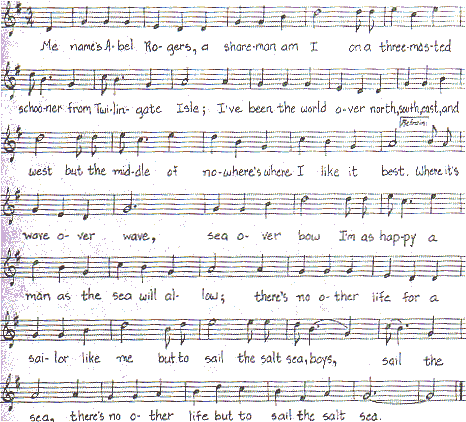 Me name's Able Rogers, a shareman am I
On a three-masted schooner from Twillingate Isle
I've been the world over, north, south, east, and west
But the middle of nowhere's where I like it best
Where it's wave over wave, sea over bow
I'm as happy a man as the sea will allow
There's no other life for a sailor like me
But to sail the salt sea, boys, sail the sea
There's no other life but to sail the salt sea
The work it is hard and the hours are long
My spirit is willing, my back it is strong
And when our work's over then whiskey we'll pour
We'll dance with the girls upon some foreign shore
Where it's wave over wave, sea over bow
I'm as happy a man as the sea will allow
There's no other life for a sailor like me
But to sail the salt sea, boys, sail the sea
There's no other life but to sail the salt sea
I'd leave my wife lonely ten months of the year
She made me a home and raised my children dear
But she'd never come out to bid farewell to me
Or ken why a sailor must sail the salt sea
Where it's wave over wave, sea over bow
I'm as happy a man as the sea will allow
There's no other life for a sailor like me
But to sail the salt sea, boys, sail the sea
There's no other life but to sail the salt sea
I've sailed the wide oceans four decades or more
And ofttimes I've wondered what I do it for
I don't know the answer, it's pleasure and pain
With life to live over, I'd do it again
Where it's wave over wave, sea over bow
I'm as happy a man as the sea will allow
There's no other life for a sailor like me
But to sail the salt sea, boys, sail the sea
There's no other life but to sail the salt sea
Wife's Monologue (spoken)

Well, I can't complain. I haven't had it as hard as some, God knows. And for the bit of time that you've been around in the past sixteen years, well, you've been a good man. I remember the year we were married ... it was a good year. You were workin' for my father and it seems to me that I had you all to meself every minute of every day ... and all the sweet long hours of the night. I think that was the happiest year of my life.
But, by the spring of the following year, ( just after my birthday, it was )you got to be itchin' after something and in no time at all you'd gone down and you'd signed up on the Mary Eleanor. It was then that I knew I was married to a sailor. I couldn't even bring myself to go down and say goodbye to ya.
Now, I'm not complaining. We've always had a roof over our heads and we've never wanted for very much. I always said, now, that I never had it as hard as May. Her husband, Jack, well, he'd only be home one or two days out of every year ... that's when he was workin' on the coastal boats. My dear, when he'd come home on the Prospero she'd have to go down there and get en because he was too blind drunk to make his way home by himself.
And I'll never forget the night I was over at Nan's ... the night Poppy Rogers came home. Poppy Rogers, gone eleven years. We hadn't heard a word from him. We didn't know what had happened to him. Sure, we'd give him up for dead! Well, that night, Nan just look out of the window and she saw him comin' up the path and all she said was "Put the kettle on, Frank's home".
But I do wish you'd been here with me when Gary died. My God, that was a hard winter. The flu...epidemic proportions they'd said on the radio. I remember the night Mom and I laid him out. Oh, your mother came over, too. I think Gary was her favourite, really. Anyway, that night I sat up with him. I sat up in that big ol' chair your brother made and I must have dozed off 'cause around 4 or 5 o'clock in the morning I woke up and just for an instant you were there. You were bendin' over and kissin' his cheek.
Well, you were back in port six months later and you gave me Kevin and Kevin had the croup. He coughed and he bawled for a solid year straight. He had me raftered. He had me clear drove off me head. And then the following year you were only home for a week. I got Rose out of that visit.
But you've always sent me lovely presents.Sometimes a year goes by and I have no word, no letters or such, but always bits and pieces from here, there, and everywhere. A lovely shawl arrived for me in the mail today ... three yards of beautifil coloured silk. I wonder where it's from ...Spain, Morroco, some place I've never been to. Ahh, it's gorgeous. It puts me in mind of warm winds and people speakin' in foreign tongues. But, sure, where am I gonna wear it? I suppose, now, I'll put it on when I go out in the garden diggin' up a few turnips or makin' a bit of soap outta lye. Well, I'll go and light the candle for ya now. It'll always be here in the window to guide ya home ... I'll always be here for you, God willing.
You know, for the bit of time that you've been around in our married life, well, you're the only man I've ever had ... you're the only man I've ever wanted!
Where it's wave over wave, sea over bow
I'm as happy a man as the sea will allow
There's no other life for a sailor like me
But to sail the salt sea, boys, sail the sea
There's no other life but to sail the salt sea
Sail the salt sea, boys, sail the sea
There's no other life but to sail the salt sea
####.... Jim Payne (1983) ....####
xxxxxxxxxxxxxxxxxxxxxxxx
Notes On Guitar Tabs:
xxxxxxxxxxxxxxxxxxxxxxxx
All guitar tabs have been contributed by visitors to this site and represent
their interpretation of the tune. I am unable to verify their accuracy.
Me {G}name's Able Rogers, a shareman am I
On{C} a three-mas{G}ted schooner from{Am} Twillingate Isle
I've {C}been the world {G}over, north, {C}south, east, and {G}west
But the {C}middle of no{G}where's where I {Am}like it {D}best
Where it's {C}wave over {G}wave, sea{C} over {G}bow
I'm as {C}happy a {G}man as the {Am}sea will al{D}low
There's {C}no other {G}life for a sai{C}lor like {G}me
But to {C}sail the salt sea,{G} boys, {Am}sail the {D}sea
There's {C}no other life but to {D}sail the salt {G}sea