Thank you to Tammy & Ron of

Last updated 16 Nov 03

As of today I am 55lbs.
| | |
| --- | --- |
| | |
| Baaja at 48 hours | 2 weeks old |
| | |
| 4 weeks old | 6 weeks old |

This Bear, He is fun to play with and makes a great pillow!
This Hat is very Silly!! Can someone PLEASE take it OFF!!

She does look kinda strange, no tail, weird ears! Ha Ha Revenge for all the time you picked on me.
Honest the cat said I could nap here while no one was watching!

I said No such thing!!!!!!

I think I finally have this ear thing working. No more taping I HOPE !!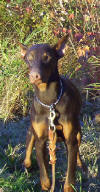 We got to take some nature pictures in between the fall weather

I stood guard while they did the picture taking, the least I could do

This modeling stuff is hard, much rather be chewing your arm!

That it guy's I am not doing this puffy picture taking any more

Now were talking FUN!! If I get a hold of you !
If I get that say good bye !
Doberman Links
Di Ravallese
CKC Breed Info
Dobermann Pedigrees
Information for people interested in the Doberman breed
Schutzhund & Working dog links