Print This Page
Thomas And Nancy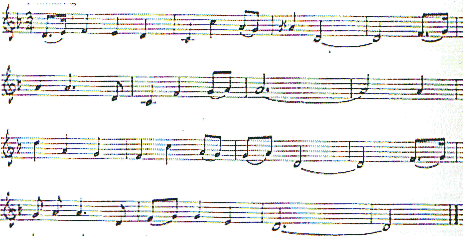 When the bo's'n's loud whistle keeps sounding
Causing Nancy and Thomas to part,
As she stood on the beach broken-hearted,
The tears from her blue eyes did start.
"O Thomas, O Thomas," cried Nancy,
"When you're roving far over the foam,
Think of Nancy your l'yal true lovyer,
Think of Nancy and your paryents and home."
Our good ship sailed over the ocean,
Like a sea-gull went over the foam,
And Thomas lay on his down pillow,
Dreamed of Nancy and his paryents at home
Our good ship sailed over the ocean,
Like a sea-gull on the billows was tossed
And the rocks broke our good ship in sunder
And our good ship and the cargo was lost
As Nancy was roaming the bide-way
In the place where she oft roved before
She saw the cold corpse of her Tom;
A-floating along by the shore.
She kissed his pale lips to her sorrow,
And she kissed them again to her grief
And before the sun rose on the morrow
To you, Nancy, death brought relief
Come all you young maids that goes courting
That never object any grief,
Be like Nancy, that l'yal true lover,
That died with her Thomas so brave.