Print This Page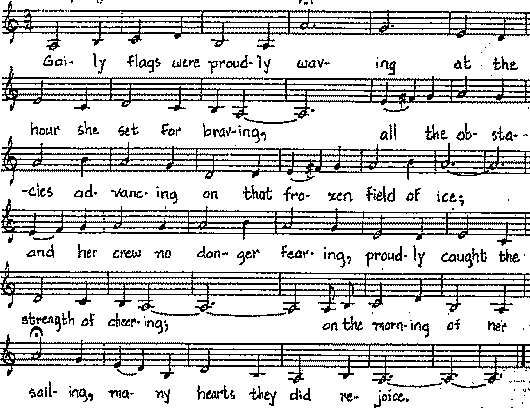 Gaily flags were proudly waving at the hour she set for braving,
All the obstacles advancing on that frozen field of ice;
And her crew no danger fearing, proudly caught the strength of cheering;
On the morning of her sailing, many hearts they did rejoice.
Our feelings we expressed them, when we knew that God had left them,
When we heard that they were sighted deeply laden on the foam;
And our hearts were glad and cheery when told near old Cape St. Mary's -
By the Portia she was sighted and she proudly sailing home.
Sadly now our hearts are mourning, dreaming yet of her returning,
Many more with sorrow laden say the ocean is her doom;
O ye waters merrily prancing, with the sunshine on you dancing,
O swift us back a message, tell us what has become of them.
Tell us she is sank or stranded, was she swallowed or abandoned -
Are the waves that rolled upon them a forlorn and helpless wreck;
O ye breezez won't ye tell us where are the noble fellows,
We cheered the day they left us, crowding joyously on her deck.
Many hearts are sorrow laden, there's the matron and the maiden,
And the darling orphan children may God hear their helpless cry -
O look down on them each morrow, give them strength to bear their sorrow,
It is you dear Lord can do it from your mansion in the sky.
####.... The Southern Cross was lost in the spring of 1914 returning from the ice. Between 170 and 173 lives were lost with no trace ever found of the ship or crew. The crew of the "Newfoundland" was lost on the ice in the same storm, leaving about 252 dead in one month. ....####