Print This Page
For the Fish We Must Prepare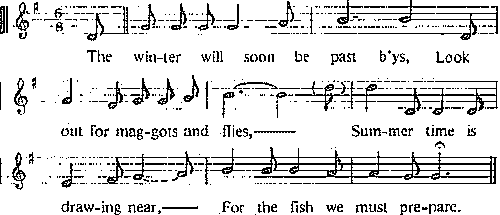 The winter soon will be past, by's,
Look out for maggots and flies,
Summer time is drawing near,
For the fish we must prepare.
Oh traps and trawls and finger-stalls,
Rubber boots and killick claws,
Some lines and twines and rope and coils,
You get sore hands and full of boils.
Sleepy eyes and staggering legs,
Your bit of old clothes all torn in rags,
Yoke your goats and fix your fence,
A gallon of liver is twenty cents.
Go span your hens, the cock will crow,
More rain, it goes too slow,
You need not wait nor hesitate,
We'll have a freezer full of bait.
Oh tar-mops and bark-pots,
And fishin' caplin to the rocks,
It's garden time, now full speed,
Another load of government seed.
Hark at the whales, do you hear them blow?
One swallowed Jonah years ago,
He prayed and prayed, the wheel got jammed,
Then Jonah crawled out safe on land,
Now their throats are very small,
They swallow fish and that is all.