Print This Page
The Logger's Plight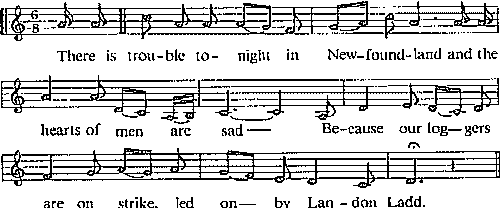 There is trouble tonight in Newfoundland and the hearts of men are sad,
Because our loggers are on strike, led on by Landon Ladd.
Before he came to our island home, this dear old Newfoundland,
We lived in peace and harmony, and followed the Lord's Command.
But now confusion takes its place, hating, doubting, and greed,
And Newfoundland would lose her rights should Landon Ladd succeed.
When first he came to Newfoundland he captured the loggers' hearts,
And formed a union which we thought would never fall apart.
But now the union is gone on strike because they did not agree
With living conditions and rates of pay in the camps of A.N.D.
Some of their loggers disturbed the peace and are spending the night in jail,
Hoping and praying that Landon Ladd will come and provide their bail.
But Landon is safe in a heated room reposed on a spring-filled bed.
While his loggers patrol their picket-line as the stars shine overhead.
It is bitter and cold on the picket line with biting wind and frost,
But Landon says maintain your post whatever may be the cost.
But although the loggers kept their post they feel that the die is cast,
And the promise made by Landon Ladd will never come to pass.
They asked the premier to intervene and help the loggers' plight,
Then Premier Smallwood replied on air: "I'll see you on Thursday night."
So at half-past nine on Thursday night he spoke on the radio
And said in no uncertain terms that Landon Ladd must go.
This union is a failure here, it never will succeed,
So form a union of your own with Maxwell Lane to lead.
With Maxwell Lane to lead the way the victory will be won,
You'll come to terms with A.N.D., then Landon Ladd will run.