Print This Page
The Petty Harbour Bait Skiff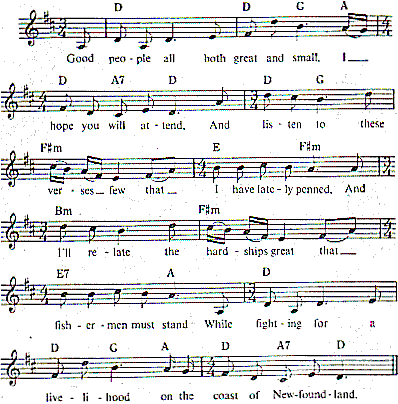 Good people all, both great and small, I hope you will attend,
And listen to these verses few that I have lately penned,
And I'll relate the hardships great that fishermen must stand,
While fighting for a livelihood on the coast of Newfoundland.
On Saturday we sailed away being in the evening late.
Bound into Conception Bay all for a load of bait.
The clouds lay in the atmosphere for our destruction met.
Boreas blew a heavy squall, our boat was overset.
Your heart would ache for all their sake if you were standing by,
To see them drowning one by one and no relief being nigh.
Struggling with the boisterous waves all in their youth and bloom,
But at last they sank to rise no more all on the eighth of June.
Now to conclude and finish, these lines I write in pain.
Never depend out of your strength while sailing on the main,
But put your trust in Providence, observe the Lord's command.
He'll guard you right, both day and night, upon the sea and land.