Print This Page
The Wreck of the Steamship Florizel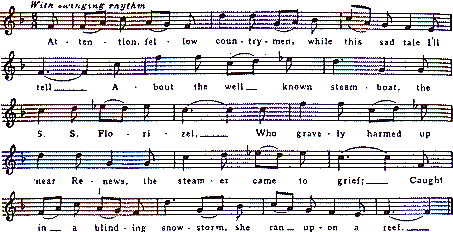 Attention, fellow country-men while this sad tale I'll tell,
About the well-known steam-boat, the S.S. Florizel,
When gravely harmed up near Renews the steamer came to grief,
Caught in a blinding snowstorm, she ran up on a reef.
Last Saturday night at eight o'clock the steamer left the pier,
With every indication a storm was drawing near;
With Captain Martin on the bridge, she sailed that afternoon,
With one hundred and thirty passengers in the steerage and saloon.
A blinding snowstorm did come on before she left Cape Spear;
She being a strong and powerful boat, the passengers had no fear,
While in their bunks they lay at night, a calm and peaceful sleep,
Not thinking before it was morning they'd be buried in the deep.
Up near Renews as morning dawned all hands received a shock,
When scrambling from their berths that night, they found she'd struck a rock.
Some rushed on deck, being scarcely clad, in hopes their lives to save;
The sea soon washed them off her deck into the angry waves.
"She's on the rocks! She's on the rocks!" the passengers did cry,
Poor helpless women in their berths gave up their lives to die,
While strong men scrambled up in hopes their precious lives to save.
The sea soon washed them off her deck into the angry waves.
Many cried and others prayed that help would be near by,
And to attract them on the shore, more signals they did fly,
And soon a large ship she was seen, who took them from the wreck,
And only forty lives were saved out of one hundred six.
A gloom was cast on every home to hear the saddening news
About the Florizel went down when wrecked up near Renews,
And ninety-four their precious lives that evening left the shore,
They met their doom a-drowning - we'll see them nevermore.
####.... On the 23rd day of February, 1918, en route from St. John's to Nova Scotia
the S.S. Florizel struck a reef near Renews. People on the shore were
powerless to help because of the storm's severity. A rescue was attempted
more than a day later, after the storm had calmed. Only 44 of the 138 souls on board
survived.Full details of the disaster can be found in Cassie Brown's A Winter's Tale
[Toronto: Doubleday 1976] ....####