Print This Page
The Emigrant from Newfoundland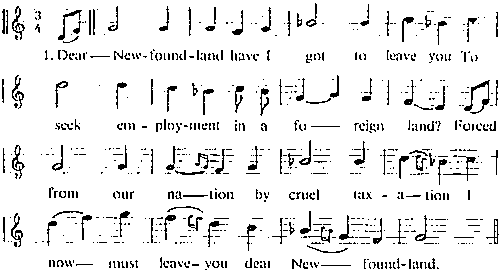 Dear Newfoundland, have I got to leave you
To seek employment in a foreign land?
Forced from our nation by cruel taxation,
I now must leave you, dear Newfoundland.
Your rocky mountains, your hills and meadows,
Where oft I played on a summer's day,
Where merry parties and happy picnics
Are passed from view with the boys that play.
Where oft in spring on a pleasant evening
To the Blockhouse go or the Battery stand
Where crowds stood eager to watch the sailors
Come in The Narrows of Newfoundland.
All decked with bunting no more I'll see you,
Although it's years since I took my stand
Near the greasy pole or the Wheel of Fortune,
Unregretted day in dear Newfoundland.
Dear Newfoundland with your fisheries failing
Your sons and daughters must leave each fall
Forced by poverty and cruel taxation
To the shores of Boston, a home for all.
Although with friends I feel sad at parting
My aged parents on the pier will stand
To bid farewell to their sons and daughters
Who now must leave you dear Newfoundland.
So keep your sons and your fairest daughters
Employed here at home on your shores so grand.
May the present generation adorn your nation
Is the prayer of an emigrant from Newfoundland.