Print This Page
The Banks of Newfoundland # 4
See also... Banks of Newfoundland # 1 | # 2 | # 3 | # 5 | # 6 | # 7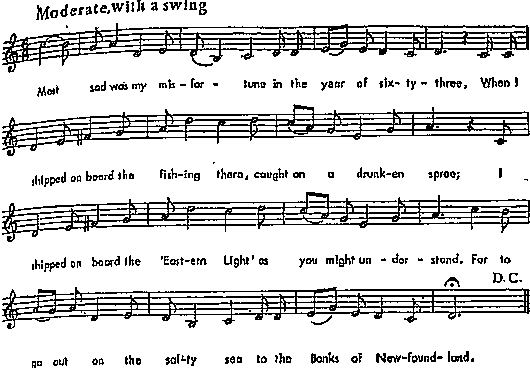 Most sad was my misfortune in the year of sixty-three,
When I shipped on board the fishing there, caught on a drunken spree;
I shipped on board the "Eastern Light"as you might understand;
For to go out on the salty sea to the Banks of Newfoundland.
Mike Cloure being our skipper's name, a hero true and bold,
We had twelve other souls on board besides myself all told;
We hoist up all our canvas when we left Gloucester port;
And the girls they wove their hankerchiefs as we sailed out of port
We brought a jar of rum on board which mustered all the crew,
We drank a health to the Gloucester girls in bidding them adieu;
'Twas east-be-bouth we steered, me b'ys, the Grand Banks for to find,
We being employed that our fishing gear some halibut to destroy.
We ranged around those foggy banks for the space of eighteen days,
We boarded a couple of Frenchmen but no brandy could we raise;
My curse on rum and brandy too, as I ofttimes said before,
Sure, I might have lived the sober life, I might still be on shore.
It's early every morning our cook up all and bawls,
Get up and eat your breakfast,by's, and then go haul your trawls;
We scarce get time to light our pipes when our dories go,
We've got to make three sets a day, let the wind blow high or low.
And if you lose a mooring, a buoy-line, or a knife,
Indeed you will be charged with it and you might bet your life;
And if you come to stand night watch be sure and stand a bet,
And if anything is missin' there you'll find it on your check.
On the eighteenth of October I heard our captain shout,
Come hoist aboard your dories, by's, and break your anchors out;
Our provisions are getting kind of scarce, we can no longer stay,
So give her great big mainsail, by's, and get her under way.
Next day our anchor's on our bow, our ship is homeward bound,
And when we next reach Gloucester port, we'll hand the glasses 'round;
We'll go down to Johnny the Lover's and 'tis there we'll spend one night,
And we'll drink a health to the Gloucester girls, likewise the "Eastern Light".